Gabriel's Trophy Case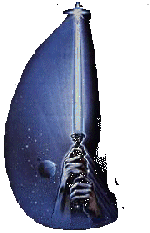 I want to thank
all the people who has given me so
wonderful awards THANK YOU!!!

This award was given by Corey, in October 16, 1997.
It is the first award that I have in the world of
the Internet...Corey thank you :-)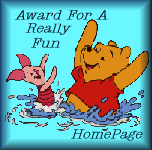 October 23,1997. This award is very special for me
because people like Debbie makes it special.
THANK YOU!!! :-)



Elmo's award was given to me in October 23,1997.
"Elmo thinks you have done a great job and
definitely deserves an award"...Monica & Elmo,
thank you for so wonderful award, like Pooh Bear,
Elmo is in my room with me hanging around, jeje!...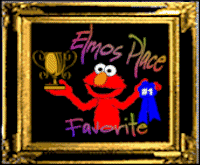 This two were given by TJ, "Congratulations Gabriel!!!
You have a great Blue's Clues Page and I'm proud to
give you this award..." November 23, 1998.
Ok this Award was given by Meghan and her Mommy,
thanks allot :)... November 30, 1998.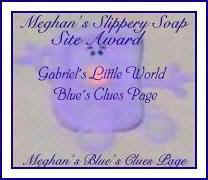 This one was given by Cody, THANK YOU, THANK YOU!!!
You guys have gave me allot of Blues Clues things
(thanks Cody's Mommy)...Thanks a bunch!!!...
December 2, 1998.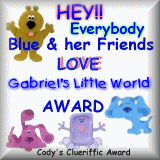 This award was given to me some time in December 1998,
by Michelle thanks...

OH!!! Got new Awards for me :)...From Lynn Aug 5, 2004. This is what she said
to my mommy: "And here are some for your precious little Gabe's site as well,
love his page. He is a beautiful litte guy...You are so blessed!!!
Have a Great Day!...Thank You Lynn this is great, two new awards :)!!!

Go back to Gabriel's Home Page





Gabriel's Little World 1997-2005, a ll rights reserved.
Powered by ZigWeb Technologies

This Web Site is hosted by TRIPOD